Trainee Energy Trader / Energy Trader Vacancy
ElectroRoute is seeking a Trainee Energy Trader to join us on our mission to "solve the commercial mechanics of a decarbonised energy system."

Location: Dublin, Ireland
Salary: Negotiable
Trainee Energy Trader / Energy Trader Vacancy
ElectroRoute is seeking a Trainee Energy Trader to join us on our mission to "solve the commercial mechanics of a decarbonised energy system."
Following graduation from the ElectroRoute Academy, you will become an Energy Trader and will join our 24/7 trading desk, where you will manage a portfolio of renewable assets and other trading activities in the wholesale energy market.
At ElectroRoute we pride ourselves on our core values of Curiosity, Humanity and Excellence and you will join a team of 85 ambitious, exceptional professionals who are passionate about making a difference.
About ElectroRoute
ElectroRoute, a subsidiary of Mitsubishi Corporation, is a dynamic and fast-growing energy trading and trading services company.  The company was founded in 2011 with headquarters in Dublin and offices in London, Tokyo and Letterkenny.
We currently trade electricity, gas and related commodities in Ireland, UK, Continental Europe and Japan.  We manage a large portfolio of renewable assets including wind farms, solar farms, hydro, batteries and Demand Side Units.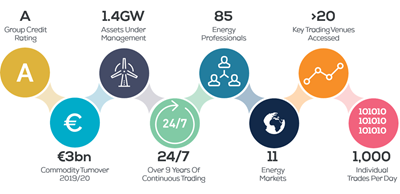 The ElectroRoute Academy
On joining you will be welcomed into the ElectroRoute Academy programme which has successfully trained over 25 ambitious trainees to become highly skilled energy traders.
This programme will provide you with formal and informal training over a period of 3 months on many relevant topics including:
fundamentals of the power system and wholesale energy markets
trading and optimising renewable and battery plants
understanding and interpreting meteorological data and weather patterns
making trade decisions
ElectroRoute's trading systems, databases and trading tools
energy risk management, regulatory and compliance requirements
After the first few weeks, you will start working on the trading desk, shadowing experienced traders and learning on the job.
Learning and development at ElectroRoute is continual – regular training and updates are scheduled throughout the year with opportunities for external training and education.
Role Responsibilities
On completion of the initial trading period, you will become an Energy Trader.  You will join the 24/7 operational trading desk rota and you will be responsible for managing ElectroRoute's clients and positions in the wholesale energy market.
You will be responsible for:
Trading energy in various energy markets and timeframes
Optimising the traded position of our renewable and battery clients in relevant markets
Developing trading strategies and tools to support decision making and trade execution
Identifying and capturing real-time market opportunities in the Irish, UK and European electricity markets
Role Requirements
Experience in energy markets or energy trading is not required – we will provide you with the training and knowledge you need.
You should:
Have a relevant primary degree (for example, Engineering, Finance, Economics, Science, Mathematics or similar)
Have a strong knowledge of Excel and a basic knowledge of programming and databases.
Be diligent with an attention to detail.
Be flexible and eager to learn.
Other Key Details
Remuneration – Competitive package negotiable and commensurate with experience.  A diverse range of benefits are provided to all employees as outlined at https://electroroute.com/careers/.
Location – the trading desk is in our HQ in the heart of Dublin at Marconi House, Digges Lane, close to all transport links.
Diversity & Inclusion
ElectroRoute is an equal opportunity employer. We aim to create value through diversity and inclusion. We seek to attract candidates to reflect the diverse nature of our society. Diversity and inclusion allow the ElectroRoute team to be curious, creative, and promote positive change. We understand the many demands on all our employees, and we adopt flexible working arrangements where possible. Working at ElectroRoute offers something special for everyone.
If you wish to apply for this role, please email a CV and cover letter to recruitment@electroroute.com