ElectroRoute's Insider's Guide to a Successful Corporate PPA
ElectroRoute's Insider's Guide to a Successful Corporate PPA
The recently published consultation on the new Renewable Energy Support Scheme will have been welcomed by project developers and investors alike, providing a roadmap to future development of renewables in Ireland. However, with the successor to REFIT a long way from a reality many renewable projects are exploring alternative routes to market, in particular Corporate Power Purchase Agreements (PPAs). Corporate PPAs are well established internationally; according to panelists at the RE-SOURCE 2017 conference, which ElectroRoute attended last week, over 1 GW of Corporate PPAs were executed in Europe in 2016 alone, with over 4 GW in the United States in the same year. Ireland, however, has lagged behind to date as developers were more focused on getting projects built via the REFIT and ROC support schemes. The PPA between Microsoft and GE, structured and managed by ElectroRoute, which was announced last week, represents the first of its kind in Ireland, and at ElectroRoute we see the opportunity for more deals of this nature in Ireland in the near future.
What is a Corporate PPA?
Under a Corporate PPA, a corporate buyer and a renewable generator enter into a long term PPA at a fixed price, with the green benefits transferring to the corporate buyer. For the generator, the fixed price guaranteed by the corporate will provide the project with the long-term price certainty it requires to access finance and be built. The benefits to the corporate are a long-term hedge against wholesale electricity prices for its demand, in addition to helping it meet its social corporate responsibility goals of buying green power. This is becoming more and more prevalent with over one hundred blue chip companies, including Microsoft, committing to going "100% renewable" under the RE100 initiative.
How do I structure a Corporate PPA?
There is significant complexity associated with structuring and operating a Corporate PPA. Based on our experience in facilitating such structures, here is ElectroRoute's insider guide for developers interested in contracting with corporates:
1. Finding a Strong Corporate Counterparty
There is currently an excess of supply in the market for Corporate PPAs in Ireland, with large volumes of renewable projects actively seeking corporate buyers and not enough corporate demand to contract with. This means there is a competitive playing field for any renewable project looking to secure a relationship with a corporate. It is not just a case of finding any corporate buyer however. It is imperative that any corporate buyer who is offering a long-term fixed price has the appropriate mix of creditworthiness and long-term stability to enable a prudent investor, developer or financier to contract with certainty. With much of the corporate demand in Ireland likely, in our view, to come from tech, pharma and other RE100 participants, we expect a growing market of creditworthy buyers available to explore Corporate PPA opportunities. For example, the Irish TSO EirGrid forecasts [1] a significant increase in data centre demand in the coming years (see chart below), much of which will be developed by major tech companies with green goals.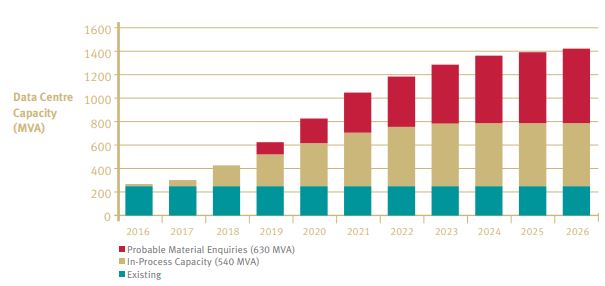 2. Agreeing Expectations
Agreeing the terms of the Corporate PPA is essential but can be a long process. The corporate buyer and renewable seller must agree on a tenure for the PPA that works for both parties; the corporate buyer may not wish to commit to an overly long-term deal, while the seller needs sufficient long term revenue certainty in order to access finance. Terms ranging from 5 to 10 years and sometimes up to 15 years or more are typically seen abroad. And of course, there is the minor matter of coming to agreement on an appropriate price for the PPA. Fixed prices are most typical but other mechanisms such as floors or cap & collars can also be utilised. The renewable generator technology in question will have a significant impact on the success of any deal. Currently in Ireland, onshore wind projects look the most likely to be able to meet the price expectations of corporate buyers, however solar will may too be competitive at an appropriate scale.
3. Get the Right Commercial and Market Access Structures in Place
International corporates and developers will find that Corporate PPA structures that have worked in other jurisdictions cannot be cut and paste into Ireland. This is due to unique market rules and structures like SEMO's unit-by-unit trading requirement, limited opportunity for "netting" or volume reallocation and no possibility for physical bilateral trading. There are several methods of structuring the Corporate PPA, including: Direct supply – where the corporate sets up its own offtaking entity which can take physical delivery of the seller's power Sleeving arrangement – where an intermediary like ElectroRoute sits between the buyer and seller and facilitates the physical delivery of power between the parties Synthetic arrangement – where buyer and seller agree a fixed price under a financial instrument like a contract for difference ("CfD"), but there is no physical delivery of power between the two Which structure needs to be implemented will depend on the corporate's specific requirements, particularly what level of transparency it requires around the procurement of physical green power. The two parties must also agree on how the complex risks associated with the structure are to be shared and/or managed. Examples of these are the "profile" or "shape" risk associated with the imbalance between intermittent renewable supply and baseload demand, balancing risk associated with trading forecast error, curtailment risk, long term price risk and regulatory risk. Ultimately the counterparties will need an expert trading and market access service provider like ElectroRoute with actual experience and track record in implementing these complex structures who can provide the required local knowledge, a proven trading & risk management capability, financial strength and the required wholesale and retail market access to make the Corporate PPA a reality. If you're interested in exploring such Corporate PPA opportunities we would be delighted to hear from you at CorporatePPA@electroroute.com
References
[1] Source: EirGrid's All-Island Generation Capacity Statement 2017-2026