I-SEM Registration Deadlines in 2 Months' Time- Are You Ready?
I-SEM Registration Deadlines in 2 Months' Time- Are You Ready?
  The eight-month delay to I-SEM announced last November will have given some welcome breathing room to organisations across the island who are endeavouring to prepare their businesses for the considerable new challenges the new trading arrangements will introduce on the 23rd May 2018. While the big date is still around 15 months away, there are important registration deadlines coming deceivingly quickly in the next few months which will require market participants' attention.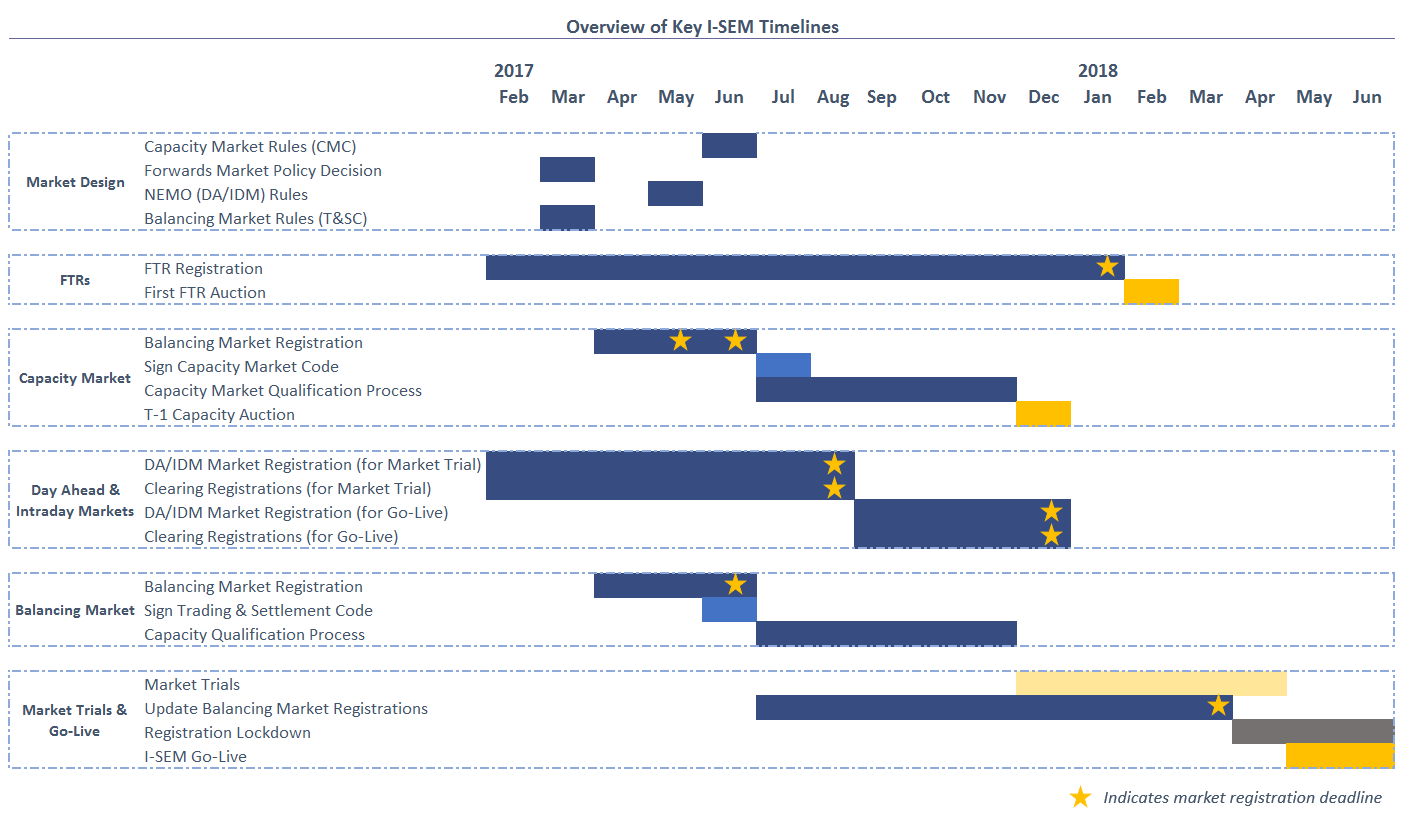 The I-SEM consists of a number of different markets, ranging from longer-term financial to short-term physical markets, each of which has different registration deadlines, as outlined above. The most important of these is the Balancing Market – it is the sole mandatory market and the first which must be registered for. Balancing Market registration deadline – May & June 2017 If you're already operating in the SEM you will be required to validate and update existing SEM registration data by the 1st May 2017. This data will then be transposed over to the new I-SEM Balancing Market. Further supporting registration information will then be required by the final Balancing Market registration deadline of the 16th June 2017. This deadline is mandatory if you wish to participate in Market Trials, which begin in December 2017. Even if you don't want to participate in the Market Trials, the 16th June 2017 Balancing Market registration deadline still applies! This is because Balancing Market data will be used for registering market participants in the Capacity Market, and Capacity Market registration is mandatory for all existing market participants (certain participants such as wind generators will be able to "opt-out", but only after first registering). So in summary you must specify your route to market for I-SEM by 16th June 2017, be that as your own party or via an intermediary. Note however that there will be opportunity to update these registrations (including changing intermediary) after the initial registration and up until the Registration Freeze in mid-April 2018, however admission to the Market Trials will not be guaranteed if registrations are changed.
Day Ahead & Intraday Registration
Participants who wish to manage risk and optimise revenues through trading in the Day Ahead or Intraday markets will be required to register as a trading company with the exchange operator, SEMOpx. In parallel, participants will be required to register with European Commodities Clearing ("ECC") and a clearing bank in order facilitate collateral management and settlement for trades in the Day Ahead and Intraday markets. The deadline for submitting these trading and clearing registrations is 7th August 2017 for those participating in market trials. However, it is worth noting that the process of enlisting the services of a clearing bank is a long and complex administrative process, laden with forms to fill, so it would be advisable to engage with one well in advance of the above deadline. If you're scratching your heads about how to go about this process, or even what clearing is or means for you, stay tuned to ElectroRoute Insights for an article demystifying the whole subject in the coming weeks! Aside from markets listed above, there are registrations for the Financial Transmission Rights market (Deadline January 2018) and the Forwards Market (policy and design still being formulated by the Regulators).
What to do next?
In advance of commencing the registration process, market participants will need to have a clear view of their strategy for participating in the I-SEM and those markets they wish to register with. The actual process for registration will require engagement with the various registration bodies and clearing banks, internal business planning and decision making and a lot of good ol' fashioned form-filling. ElectroRoute has developed a Seamless I-SEM Transition product through which we will tailor and execute a bespoke transitional registration plan for our clients, ensuring they are fully registered and prepared for the new markets, while allowing them to continue to focus on their day-to-day business.   Please contact the Client Services team for more information on what the registration process means for you and how we can help you tackle it.